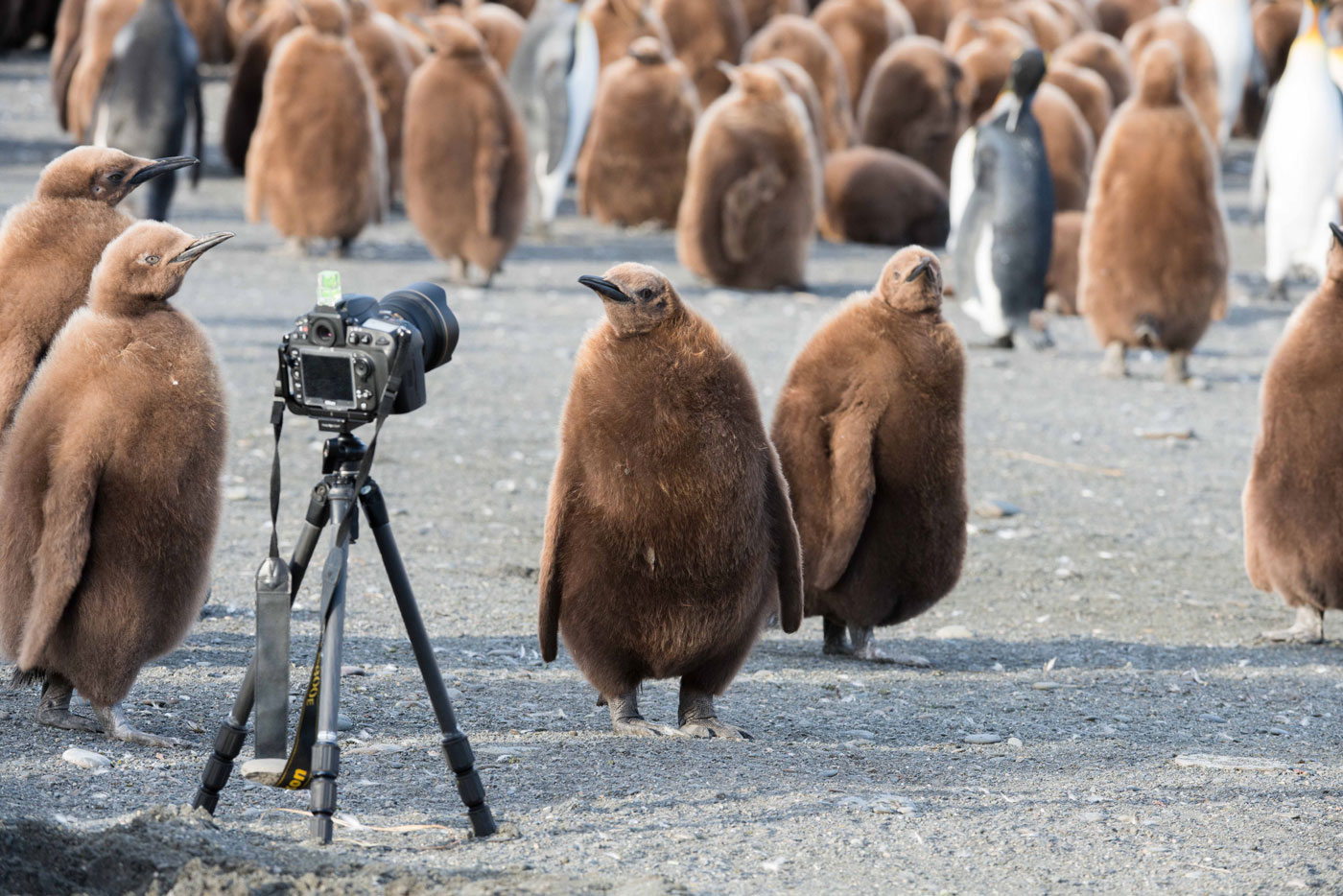 PL 20/21 Falklands, South Georgia & Antarctic Peninsula
The ultimate Antarctic Experience
Combine the Antarctic Peninsula with the wildlife powerhouses of South Georgia and the Falkland Islands for the ultimate wildlife experience across the Southern Ocean.
The wildlife
This is a voyage of superlatives! Penguins by the tens of thousands—the largest rookery on the planet—and so much more!
Your voyage will take you to the Falkland Islands to see sub-Antarctic species of albatross, Rockhopper, King and Magellanic penguins, as well as striated caracaras and upland geese. You then continue to the star attraction—South Georgia—to see tens of thousands of nesting King Penguins, the largest rookery on the planet. You'll also see the largest breeding colony of Southern elephant seals.
The History
South Georgia features prominently in the heroic age of Antarctic Explorers
Follow in the footsteps of Sir Ernest Shackleton and learn the story of the ill-fated Endurance, and Shackelton's heroic 720 nautical mile trek from Elephant Island to South Georgia aboard a 20' open lifeboat to seek help for his stranded crew.
The polar expedition ships Island Sky and Hebridean Sky
Operated by Polar Latitudes
Spacious staterooms with all the amenities, Island Sky and Hebridean Sky are designed for boutique luxury expeditions.
Day 1 | Ushuaia
Fly at your convenience from Buenos Aires to Ushuaia. There's no need to worry about missed connections, as you will have two days to enjoy the many sights Ushuaia has to offer, from museums to lively cafés and shops.
Accommodations: Arakur Hotel and Resort
Day 2 | Ushuaia
Today is all yours to explore the region. The hotel concierge would be happy to arrange a visit to Tierra del Fuego National Park, a visit to Martial Glacier, or simply stroll the woodland trails behind hotel. An evening briefing will provide an opportunity meet your expedition staff and fellow travelers.
Accommodations: Arakur Hotel and Resort
Day 3 | Embarkation
After a complimentary buffet breakfast, you're free to continue exploring Ushuaia, or simply unwind at the resort until your mid-afternoon transfer to the ship. Once on board, you'll be greeted by the expedition team and ship's officers. A concise safety and orientation briefing will be followed by the captain's welcome dinner. After dinner, relax and take in the scenery as the ship makes its way through the Beagle Channel out to sea.
Accommodations: Island Sky, BLD
Day 4 | Southern Ocean
As you sail east to the Falkland Islands, watch for albatross, prions, and petrels that frequently follow the ship. Your expedition team will be out on deck as well, looking for whales and dolphins. Presentations will commence with informative talks on the wildlife, history and geology of the Falkland Islands and Southern Ocean. There will be a mandatory briefing on the environmental and safety regulations and procedures that must be followed on all Antarctic expeditions. All presentations will be held in the main lounge.
Accommodations: Island Sky, BLD
Day 5 | West Falklands
The westernmost outposts in the Falklands consist of remote farms that have been family-run for six or seven generations. Sheep graze alongside albatross colonies, Rockhopper, King and Magellanic penguin rookeries. Striated caracaras patrol overhead while upland geese graze at the water's edge. A visit to one of these homesteads often includes an invitation for cakes and a cup of tea.
Accommodations: Island Sky, BLD
Day 6 | Stanley, East Falkland
The sheltered harbor of Stanley is easy to discover on foot, as most shops are located around the port. The museum, post-office, shops, and lively pubs are all available to enjoy. For those focused on wildlife, there are sea lions, Peale's and Commerson's dolphins in the harbor as well as abundant bird life in nearby Gypsy Cove.
Accommodations: Island Sky, BLD
Days 7 - 8 | Southern Ocean
There will be more wildlife spotting as you make your way southeast, across the Antarctic Convergence and officially enter Antarctic waters. Shipboard presentations continue featuring exciting the history and abundant wildlife of South Georgia.
Accommodations: Island Sky, BLD
Days 9 - 12 | South Georgia
South Georgia is home to tens of millions of breeding penguins, seals and seabirds. Magnificent mountain scenery, glaciers and a rugged coastline make South Georgia a photographer's paradise. Landing sites feature huge Elephant seals, aggressive fur seals, Gentoo penguins, albatross, petrels, skuas and gull. The premier attraction however are the King Penguins who converge on this island every year to breed and raise their chicks by the hundreds of thousands. You'll visit historic Grutviken whaling station, home to the whaling museum, Norwegian seaman's church, and the final resting place of Sir Ernest Shackleton.
Accommodations: Island Sky, BLD
Days 13 - 14 | Scotia Sea
Heading farther south, you'll continue to enjoy informative and entertaining presentations, and watch for wildlife as icebergs become more abundant.
Accommodations: Island Sky, BLD
Days 15 - 18 | South Shetland Islands and Antarctic Peninsula
You'll cruise the waterways of the Antarctic Peninsula and South Shetland Islands, stopping to explore in greater detail by inflatable Zodiac boats. The aim is to visit scenic bays and channels, historic or active science stations, and stops at penguin rookeries, seal wallows, bird colonies, and whale feeding areas. Your specific itinerary will depend on weather, ice and opportunity, as determined by your expedition leader and captain.
Accommodations: Island Sky, BLD
Days 19 - 20 | Drake Passage
As you leave the peninsula behind and head north across the Antarctic Convergence zone, you'll continue enjoying informative and lively presentations by your expedition team. As you cruise through the Beagle Channel towards Ushuaia, you'll celebrate your expedition with a special slideshow.
Accommodations: Island Sky, BLD
Day 21 | Ushuaia disembarkation
It's time to say goodbye to your crew. You'll be transferred to the airport for your return flight to Buenos Aires.
Dates and Prices
All prices are per person, double occupancy unless otherwise specified.
Departure Dates
03 Jan 2021 - 23 Jan 2021 Island Sky
21 Jan 2021 - 08 Feb 2021 Hebridean Sky
23 Feb 2021 - 15 Mar 2021 Island Sky
Accommodations
03 Jan 2021
19 Jan 2021
23 Feb 2021
Porthole Suite

$22,495
$22,495
$17,595
Window Suite
$24,795


$23,795*

$24,795


$23,795*

$19,495


$18,245*

Promenade Suite

$26,195


$24,945*

$25,495


$24,245*

$20,495


$18,995*

Deluxe Suite

$26,595


$25,345*

$25,895


$24,645*

$20,995


$19,495*

Veranda Suite

$28,295


$26,795*

$28,295


$26,795*

$21,995


$20,245*

Penthouse Suite

$30,995


$29,495*

$30,995


$29,495*

$24,595


$22,845*

Owner's Suite

$32,995


$31,495*

$32,995


$31,495*

$26,495


$24,745*

*Special earlybird savings: Must be booked and under deposit by October 31st, 2019
Optional Activities
Kayaking
$895 - limited to 16 guests, must be reserved at time of booking
Citizen Science
Free - guests are invited to help collect samples, record data and assist in a variety of hand-on research.
Pre- Cruise Accommodations
One night pre-cruise accommodations at Arakur Resort and Spa (bed and breakfast)

Optional second night's pre-cruise accommodations available at Arakur Resort if requested (with copy of confirmed air arrangements) at least 90 days in advance.
Shipboard Lodging, Meals and Activities
World-class cuisine and snacks prepared by ship's chef
*including most special dietary needs such as vegetarian or gluten free

Complimentary house wine, beer and soft drinks with dinner

Welcome reception & dinner

Farewell dinner

Daily afternoon tea with fresh snacks

Coffee, tea & cocoa available 24 hours

Educational presentations by expedition staff during your voyage

Citizen Science program
Expedition Gear Package for duration of the voyage
Complimentary wind and water proof expedition jacket (yours to keep)

Comfortable insulated rubber boots

Trekking poles available on shore
Onboard Physician
Services of English speaking doctor

Access to ship's infirmary
Transfers
From/to designated meeting points to/from the ship

Required flights to/from the ship

Luggage transfer to/from your cabin
Multimedia
Use of WiFi from public computers in the library

200 MB WiFi card for use on your personal devices
Single Supplement
Single guests wishing exclusive use of a stateroom pay 100% of the second berth. Otherwise, single guests are welcome to book as "willing to share" without any single supplement.
Sea Kayaking
An extra cost of US$695 per person. Pre-registration required at time of booking. Confirmed access to kayak at any offered excursion. Limited to 16 passengers per voyage. Includes high quality kayaking equipment (dry suits, booties, pogies, paddles, PFD and single or double kayaks)
Camping
An extra cost of US$125 per person. Limited to first 30 guests, so register early to guarantee your place. Camping is limited to one night per voyage and is available on most voyages, subject to weather. Includes insulated sleeping bag rated to -20°F (-29°C), sleeping bag liner, dry bag for pillow and change of clothes, 4-season mountaineering tents, insulated sleeping pads.
Trip price does not include
International and national airfares, except where noted

Visa and passport fees, airport taxes

Pre- or post-cruise hotel accommodation in arrival/departure cities, except where noted

Meals & transfers in arrival/departure cities

Personal expenses

Personal laundry charges

Postage, telephone calls

Travel medical insurance including medical evacuation (mandatory)

Trip interruption / cancellation insurance

Gratuities to staff and crew
Download the full brochure of 2020-2021 Antarctic expeditions aboard the intimate boutique luxury ships Hebridean Sky and Island Sky.
This brochure also features additional single-departure specialty trips not found on the website.
Video
A taste of what to expect
Frequently Asked Questions
When is the best time to go?
The Antarctic season runs from late November through early March, with the best weather during December, January and February, which also coincides with breeding season for most penguin species. Of course weather in Antarctica can be unpredictable, but routes are flexible to maximize your time at the destination.
What will I will see?
You will get your first glimpse of penguins when you arrive in the Falkland Islands. Colonies of Rockhopper, Gentoo and King Penguins nest throughout the Falklands. All along the way, you'll also encounter a variety of sea birds including several species of Albatross, Petrel and Skua. Entering Antarctic waters, whales abound with the possibility of sighting Southern Right, Minke, Humpback, and if you're lucky, Blue and Sperm whales.
How can I be sure this is the right trip for me?
Antarctica is the trip of a lifetime. Shore excursions are designed for anyone with reasonable mobility. Walks with small uphill sections are optional, but a reasonable level of fitness will guarantee greater enjoyment. For the more active, sea-kayaking is also available.
Are the ships wheelchair Accessible?
Unfortunately, no, our ships are not built to be wheelchair accessible. There is an elevator that services all floors, but due to weather and sea conditions, it is not operational at all times.
How cold will be be inside the ship?
Not cold at all! The entire ship is climate-controlled for your comfort, and all cabins feature individual temperature controls.
How many beds are in each suite and what size are they?
All suites feature the option for 1 Queen or 2 Twin beds. The only exceptions to this are the Owner's Suites on each ship, and Penthouse Suite 601 on the Hebridean Sky, which have 1 Queen. Nearly all en suite sofas convert to beds suitable for guests under 5'10" in height.
Do you offer triples or quads?
We do have some suites that are designated Triples. In addition, most suites feature a sofa that can convert to a 3rd berth, suitable for guests up to 5'10" in height. We do not have quad suites.
Will my suite have portholes or windows?
Only suites designated as "Porthole Suites" have portholes, the rest have windows. We cannot guarantee the number of portholes or windows in your cabin. Windows and portholes do not open.
May I smoke on board the ship?
There is absolutely no smoking permitted anywhere inside the ships (including the balcony areas,) on Zodiacs, or on landings. International law dictates the allowed designated area for smoking on commercial vessels; on Hebridean Sky and Island Sky this area is outside on Promenade Deck 4 aft. This location will be clearly identified during the Safety Briefing at the beginning of your voyage. Repeated non-compliance of our smoking policy will result in a $1000 penalty added to your shipboard account. The expedition leader and captain also reserve the right to disallow participation in off-ship activities.
Are there laundry facilities available on board?
Yes. Laundry service is available on board; however, the ships do not have dry cleaning facilities. There is no self-service laundry facility on board the ships and no irons for passenger use.
Is there a gym or spa on board?
There isn't a dedicated gym or spa facility; however, a small stock of fitness items such as yoga mats and blocks, medicine balls, resistance bands, jump ropes, Bosu balls, and massage rollers are available for check-out from Reception.
Can you accommodate special dietary restrictions?
Most dietary requests such as low salt, gluten-free, and low cholesterol are easily accommodated. All meals include vegetarian, meat, and fish options. If you have a specific dietary concern, please let us know. Please note Kosher meals are not available.
Is there internet access?
Yes. Both ships feature wireless networks accessible from your personal computer or smartphone from virtually anywhere on board. There are also two public computers available in each ship's Library which may be used for email and Internet (but not for uploading photos.) 100 free minutes of WiFi usage is included in the cost of your voyage. Additional data packages can be purchased from the hotel manager on board; rates begin at about USD $22 for 100 minutes. Please note, due to weather and location, there may be times when Internet service is very slow or disrupted.
What type of electrical outlets are on board?
Voltage is 110V/60Hz (American standard) with a 220V razor socket. Electrical outlets are suitable for low voltage electrical devices, e.g. mobile phones or camera chargers. Suites also include 5 USB ports for charging. Please do not bring any small appliances such as hairdryers, irons, coffee makers, curling tongs, or steam pots, as these items will damage the ship's electrical system and are strictly forbidden on board. There is a small hairdryer provided in your cabin.
Will I be able to use my cell phone during the voyage?
It is highly unlikely that you will have cellular service once you leave Argentina. There is a telephone in your cabin, which has access to an outside line; however, there may be times when phone service is limited or unavailable.
Will I be able to purchase extra batteries or flash cards on board?
While you may find the batteries or flash cards you need in stock in our Gift Shop, we strongly recommend that you bring extra supplies of everything, (including an extra charger) as availability of these items is very limited, and cannot be guaranteed.
Can I send postcards from either the ship or Antarctica?
Some of the bases that we may visit on your voyage offer postal service, but we can't guarantee we'll get to one. Your expedition leader will let you know if you're visiting a base that offers post, and how you can send mail. In some places you may need cash, usually US Dollars or Euros. You can always send postcards once we disembark in Ushuaia.
Is there a doctor on board the ship?
Every voyage has a currently-practicing and English-speaking doctor experienced in Emergency medicine. Medical services are available 24 hours a day, and a doctor accompanies passengers on all shore landings.
What medical facilities are available on the ship?
Each ship has a medical clinic, stocked with a wide range of common basic medications, including seasickness medication, and capable of supporting a wide range of medical issues. Please note, there are no lab or radiology capabilities on board.
What happens in case of a serious medical problem?
In the unfortunate event of a serious medical problem, the ship's doctor will take every possible step to stabilize the patient, who can then be evacuated to the nearest facility or airfield; either Ushuaia, Stanley, or King George Island, for more comprehensive diagnosis and treatment. Please be aware that there are limits to what ship's physicians can treat and evacuations in this remote area may be lengthy.
What if I have a pre-existing medical condition?
All guests are required to complete a medical questionnaire that is reviewed by our Medical staff who will contact your agent if they foresee any difficulties with the safety of your voyage. Medical information is kept on board for reference in the event of a medical problem.
For passengers that do have significant medical issues/problems, we recommend that you visit your physician to obtain the doctor's "fit to travel" stamp of approval. As your embarkation date approaches, don't hesitate to re-check with your doctor if there has been a change in your medical issues. It's always a good idea to bring duplicate supplies of all your medications and necessary medical supplies.
Is there a fee for medical services?
There is generally no charge to guests for medical consultations, rendered care, or dispensed medical supplies. The only exceptions are rare cases in which very involved, "Intensive Care" levels of treatment are required.
What will the weather be like on my trip?
Weather in Antarctica can be very unpredictable, and we don't get the same type of forecasts that we're used to in most other parts of the world. We get information about general conditions and trends in the areas we visit, and we make our own forecasts in real time based on the data we have in the moment. Average temperatures in Antarctica during our sailing season is between -5 C (23 F) and 5 C (41 F).
Do you require insurance?
Yes. All guests must carry a travel protection plan that covers personal injury, medical expenses, repatriation expenses, evacuation expenses, and pre-existing medical conditions. Additionally, guests are strongly advised to purchase coverage for cancellation, curtailment, trip interruption, and all other expenses which might arise as a result of loss, damage, injury, delay or inconvenience occurring to or otherwise involving a guest. As any potential evacuation from Antarctica can cost up to $150,000 we recommend that no policy carry less than this amount of coverage. INCA offers a number of policies and plans that should cover your needs. Ask us for details.
What specific clothing, shoes, or gear do I need?
Dress on board the ships is casual and informal at all times. The best clothing is a layered system with an outer layer that is waterproof. The air between the layers provides additional insulation.
Base Layer – Thermal underwear and a pair of thermal socks.

Mid Layer – Pants (fleece is ideal), a light cotton shirt, and a fleece.

Outer Layer – Waterproof pants and a waterproof jacket.
Waterproof pants are required to participate in landings.
Note: Lightweight disposable rain gear will not endure more than one landing, so please bring high quality, expedition-weight waterproof pants.

Shoes – Sturdy walking shoes or sneakers with a good grip sole for the slippery deck, and the rubber boots we provide.
We strongly encourage you to purchase high quality gear so that your enjoyment is not impacted..
Do I need my own waterproof jacket and boots?
No. A waterproof expedition jacket, yours to keep, is included in the cost of your voyage, and will be given to you on board. A nautically inspired and well-fitting jacket, it's ideal for cruising, sailing or onshore activities. This jacket, custom designed and is a fully wind- and waterproof outer layer, with a protective collar to help keep body warmth from escaping on windy days. Please note, as this is not an insulated ski parka, we recommend wearing a heavy fleece and/or thermal layers under the jacket for additional warmth in Antarctica.
Insulated rubber boots will be available for use during the voyage. They are great for getting in and out of Zodiacs and are plenty warm with a good pair of thermal or wool socks.
Do I need trekking poles?
We do have a limited number of trekking poles on board, but if you are more comfortable with your own, please feel free to bring them.
Do I need to bring my own soap and shampoo?
No. Molton Brown of London soap and shampoo is provided on board.
Should I bring my personal computer?
This is entirely up to you. If you wish to have access to the internet from anywhere other than the Library, you will need a computer or mobile device such as a smartphone or tablet. Some guests also find it useful to have their computers on hand for photography storage and backup. If you do choose to bring a laptop, please be sure to take the necessary precautions to protect it from the elements.
What type of camera equipment should I bring?
A detailed photography guide will be provided as part of your pre-cruise documentation
Can I bring my unmanned aerial vehicle (Drone)?
No. The recreational use of Unmanned Aerial Vehicles (UAV) or drone type aircraft in the Antarctic is currently prohibited by the International Association of Antarctic Tour Operators (IAATO). Because IAATO recognizes the value of UAVs for certain commercial and scientific applications, the expedition team is currently permitted for the commercial use of UAVs by trained members. Individual permits are not possible, and personal drones are strictly prohibited.
Will I need cash on board?
No. All shipboard charges will be charged to an account, so you do not need to pay cash as you go. At the end of your voyage, you may pay your tab with cash or credit card; Visa, MasterCard, or American Express are accepted. All prices on board are shown in US Dollars.
Always be sure to carry a small amount of cash, local and US or Euro, to cover taxis, and other incidentals, which may not be payable by credit card.